English / FInnish below
New joyful things released! Designs by Tomi Leppänen bring joy to Mum's summer 2021. Use these rugs outdoors or indoors and enjoy the pure and beautiful simplicity of Typewriter collection, handmade of recycled plastic bottles.
Finnish Tomi Leppänen is a graphic designer who loves the typography. While exploring Bauhaus history he found an inspiration from a surprising technique: textile designer Anni Albers, during around in 1930 had made experimental "drawings" using typerwriter-characters, with the aim of creating textile patterns. So did Tomi climb up to their attic to find an age old typewriter, and began creating his own patterns filled with dots and lines, playful smileys as well minimalist, abstract patterns and landscapes.. Mum's artisans have embroidered Tomi's patterns on rugs, made of 100% recycled pet bottles. Named " Smiley, High Society, View, Visionaire, Kvartet" also tell a sory of Tomi's collection. Kind of like all kinds of people, in a typographic form.
Year 2018 Japanese "Minä Perhonen" chose Tomi's work as a winner of Nordic Design for New Designers competition in Osaka, Japan. Also then the idea for the winning work was based on typography.

Graafinen suunnittelija Tomi Leppäsen raikkaat typografiset kuosit ilahduttavat Mum'sin mattokevättä 2021!
Tutkiessaan Bauhausin historiaa graafinen suunnittelija Tomi Leppänen löysi inspiraation yllättävästä tekniikasta: Tekstiilisuunnittelija Anni Albers oli aikoinaan 1930-luvulla tehnyt tekstiilejään varten kuviokokeiluja kirjoituskoneella. Tästä inspiroituneena Tomi kaivoi ullakolta japanilaisen Student- merkkisen kirjoituskoneen. Tuloksena syntyi minimalistisen leikkisä mattomallisto, jossa kirjoituskoneen merkkien tuottamat pisteet ja viivat muodostavat abstrakteja hahmoja ja maisemia. Mattojen nimet "Seurapiiri, Hymiö, Näkymä, Visionääri ja Kvartetti" avaavat osaltaan Tomin mattokuvioiden ajatusta.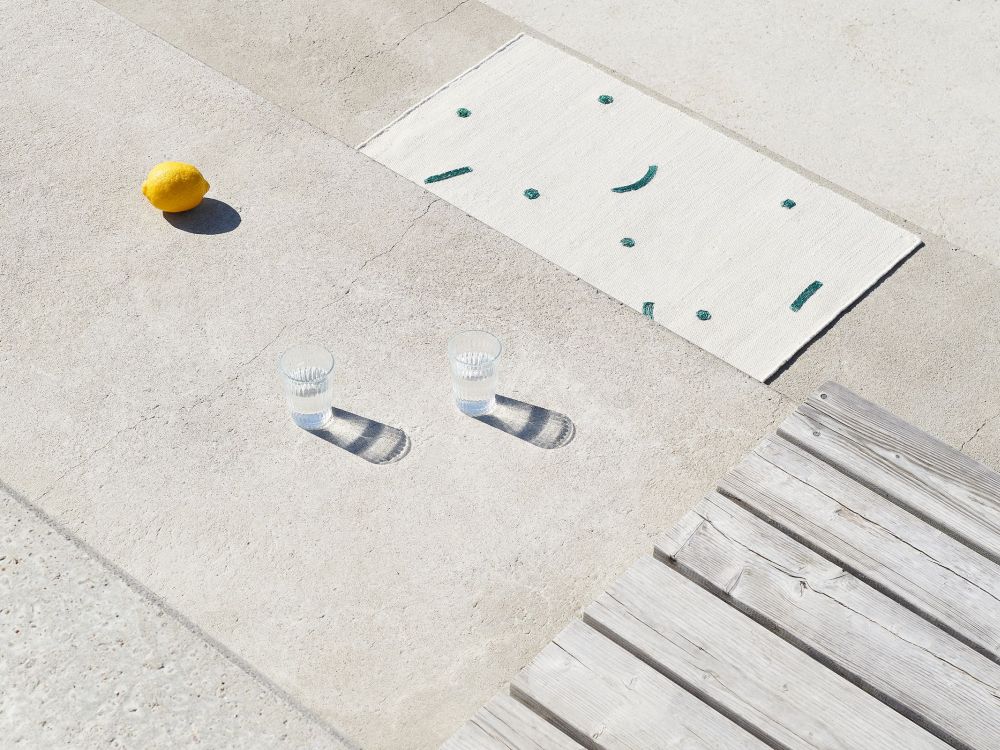 Typografiaan perustuva kuvitustekniikka ei ole Tomi Leppäselle täysin vieras: Vuonna 2018 japanilaisen Minä Perhonen- tuotemerkin perustaja Akira Minagawa valitsi ajatusviivoista koostuvan "Juhannuskruunu" -kuvituksen voittajaksi Nordic Design for New Designers - kilpailussa Osakassa.
Mum'sille suunniteltu mallisto on Tomi Leppäsen ensimmäinen mattomallisto. Mallisto on valmistettu 100% kierrätetystä PET muovista ja se soveltuu niin ulos terassi- kuin sisätilakäyttöön.
Photos Unto Rautio
Stylist Iina Kettunen
Art Director Tomi Leppänen