Suomeksi / In English below
Rahtien saapuminen on Mum'sille juhla! / Arriving freight is a celebration.
Päivitys 9.7.2021 Odotettu. Pitkään ja hartaasti. Toivottu ja kaihottu. Jännitetty ja harmiteltukin. Huolissaankin hänestä oltu: Mum'sin rahti se saapui nyt! Jos olet tilannut meiltä niin muistathan, että voit koska tahansa laittaa viestiä ja kysyä tilauksesi tilannetta. Päivitän tilannetta aina sen hetken mukaan. Nyt saapunut rahti tullataan ja kun maahantuontibyrokratia kunnossa, niin saan luvan noutaa rahdin. Tuomme sen tänne Turun kupeeseen, puramme ja pakkaamme matot uudestaan ja toimitamme teille.

Ensi viikolla olemme myös Helsingissä heitä varten, ketkä tulossa noutamaan tilaustaan showroomilta/ soupuodilta. Jos kaikki menee suunnitellusti, niin mattoja voisi ehkä noutaa aikaisintaan maanantaina iltapäivällä/ alkuillasta. Jos ei, niin sitten ensi viikolla joka tapauksessa. Ensi viikolla hoidan myös kaikki sovitut toimitukset ja vaihdot sun muut. Puhhuh mutta ihanaa, että rahti täällä. Olen niin huojentunut ja iloinen. Kiitos teille <3 Pikkuisen kiireessä kirjoitan. Nyt rahtia ja pakkauksia, Outi Mum's
Update 9.6.2021 / We are packing the freight in India! Freght is to leave during next weekend. We do have hope it arrives in FInland in June still. / Ihana kertoa, että vihdonkin mattojamme pakataan Intiassa. Rahdin on määrä lähteä matkaan viikonlopun aikana. Toivoa on, että matot ehtisivät Suomeen vielä kesäkuun puolella! Oi tämä on kyllä niin hyvä uutinen ja ihan meille kaikille!
Päivitetty/ Updated 8.6.2021
Lockdown päättyi Delhissä 7.6.2021 ja kaikki puuhaavat nyt lentorahtejaan lähtemään maasta ja mahdollisimman nopeasti. Pelätään sairastavien määrän kiihtymistä ja uutta lockdownia. Intiassa on yli 20 miljoonaa sairastunutta ja kuolleita päivittäin useita. Asiantuntijat sanovat, että todelliset tilastot ovat surullista kyllä vielä korkeampia. Mum'sin sydän itkee tilanteen johdosta. Sielumme asuu aina Afrikassa ja Intiassa siellä, missä Mum's vuonna 2006 syntyi. Yhteistyökumppanimme jakavat arvomme, tai arvot ovat syntyneet luontevasti yhteisymmärryksestä ja solidaarisuudesta toisia ihmisiä kohtaan siitä. Tahdomme tehdä hyvää ja kantaa vastuuta muustakin ja muistakin kuin itsestä.
Odotamme parhaillaan kuulumisia Intian rahdista ja sen lähtemisen aikataulusta. Sinänsä meillä on tässäkin tilanteessa osunut tavallaan "onni" se, että Mum'sit valmistuvat ihmisten kodeissa niin Intiassa kuin Afrikassa. Tuotantomme ei ole lockdownienkaan aikana loppunut ja artesaaneille voitu maksaa työkorvauksia. Tänäkin aikana Mum'sin perustaja ja suunnittelija Outi on pystynyt työstämään uusia mallistoja yhdessä huikeiden artesaanien ja designereiden kanssa. Se, että meillä on ollut töitä on teidän ansiotanne. Jokainen tilaus työllistää. Olemme hyvin kiitollisia. Kiitos, kun puhutte meistä eteenpäin. Kiitos,kun kirjoitatte, julkaisette tuotekuviamme lehdissä ja blogeissa, kiitos kun myytte meitä liikkeissänne. Kiitos, kun ostatte Mum'sia. Se on meille suuri onni. Te olette onnemme.
in ENGLISH 8.6.2021
What's happening in India and Africa is breaking our hearts. There are close to 20 million confirmed cases of COVID only in India. Every morning many people die. Experts say the true numbers exceed the official figures. Africa and India have been a big part of MUM's story and a soul of our label. Mum's founder and designer Outi together with amazing artisans and designers have worked to bring our collections to life. We are proud to say our vendors in India and Africa share the same values and our production is still going strong. Even during lockdowns, Mum's is handmade at artisan's village and work is done at people's homes. This has turned to be a high value for us during these difficult times, and we have also been able to create new collections. We have paid our vendors and artisans even through the lockdowns in India, where we make our rugs. Thanks to you and your orders. This is a global issue. We are all safe only, when everyone is safe. Lockdown is now over in India (at least for a while) and we are waiting to hear more about the freight arrival. Thank You for the patience for everyone waiting for their Mum's orders. Take care, everyone. Thank You for your kind support.
Päivitetty 25.5.2021 Intiassa lockdownia jakettu 31.5.2021 asti. Sen jälkeen on hallitus luvannut, että ihmiset saavat hetken hengittää ilman rajoituksia. Lockdownia on taisaiseksi jatkettu jokaisen päättymispäätöksen jälkeen. Pajaltamme terveiset että uskovat, että rahti pääsee kesäkuussa matkaan kohti Suomea.
Lockdown has been coninued again. Now Indian Government has promissed here will be relaxment after 31.5.2021. In India lockdown has continued every time right after it was supposed to be discontinued, lastly in 16.5. But this time Government has made a promise. As all our work is done at people's homes in small rural villages we do have production and your orders are made, and most of the orders which are "un" are all ready and packed. Problem is the lockdown which does not allow people go to work nor move from home. Freight does not move as nobody is working. As soon as freight is allowed to move we will receive our freight in Finland, hopefully in the beginning of June, after the lockdown. We are so sorry for all of you waiting for your lovely rugs, and also sorry for all our artisans making the rugs. It is 100% certain yor ordrs will arrive. Just takes time, because of covid.
Päivitetty 19.5.2021: Intiassa edellinen pitkä lockdown päättynyt 16.5. ja Intian hallituksen päätöksellä samantien lockdownia jatkettu 24.5.2021 asti. / Update 19.5.2021. Lockdown in India was ceased 16.5. and immediately continued till 24.5.2021 by Indian government.
Olen miettinyt kirjoitanko teille tästä ollenkaan. Kun pitäisi jaksaa olla tsemppaava ja iloinen ja jakaa hyviä asioita kaiken harmin keskellä. Vaan kyllä mietin niinkin, että koska toimitaan rehellisesti ja läpinäkyvästi, niin totuus on parempi kertoa. Ehkä se lisää myös ymmärrystä.
Nyt on Fashion Revolution ja tekijöitä ja tuotteen alkuperää valaistaan. Me olemme nyt menettäneet koronalle kolme taitavaa kutojaa Intiassa. Intiassa tilanne on melkeinpä katastrofaalinen: on lockdowneja tuon tuosta ja ulkonaliikkumiskieltoa. Tulee sadonkorjuuaika ja kutojia tarvittaisiin pellolla, koska kasvattavat ruokansa itse, elävät omavaraistaloudessa. Tuo sentään on tässä tilanteessa onni, kun kauppaan kylistä ei edes pääse.
Intiassa rokoteohjelma voi kestää vuosia. Populaatio on niin suuri. Meidän pieniin kyliin rokotteista on sentään ollut edes puhetta.
Intiassa on nyt myös kuuma lähes 40 astetta. Kutojat työskentelevät varhain aamulla, kun ei vielä ole liian kuuma ja jos lockdownilta työtä tehdä saavat. Myös kylissä pidetään etäisyyttä, vaikka sairastuneita ei tällä hetkellä ole. Me puskemme eteenpäin ja valmistamme tilauksianne parhaamme mukaan. Odottamaan joudutte, mutta se palkitaan. Mekin joudumme odottamaan. Kaikki joutuvat. Delhistä toukokuun alussa alunperin saapuvaksi arvioitu rahti ei pääse lähtemään, koska lockdown jatkuu.
Kiitos kärsivällisyydestänne. Odottamisessa.
Toivotaan Intiaan parasta. Terveyttä.
Kiitos. 🖤
Outi.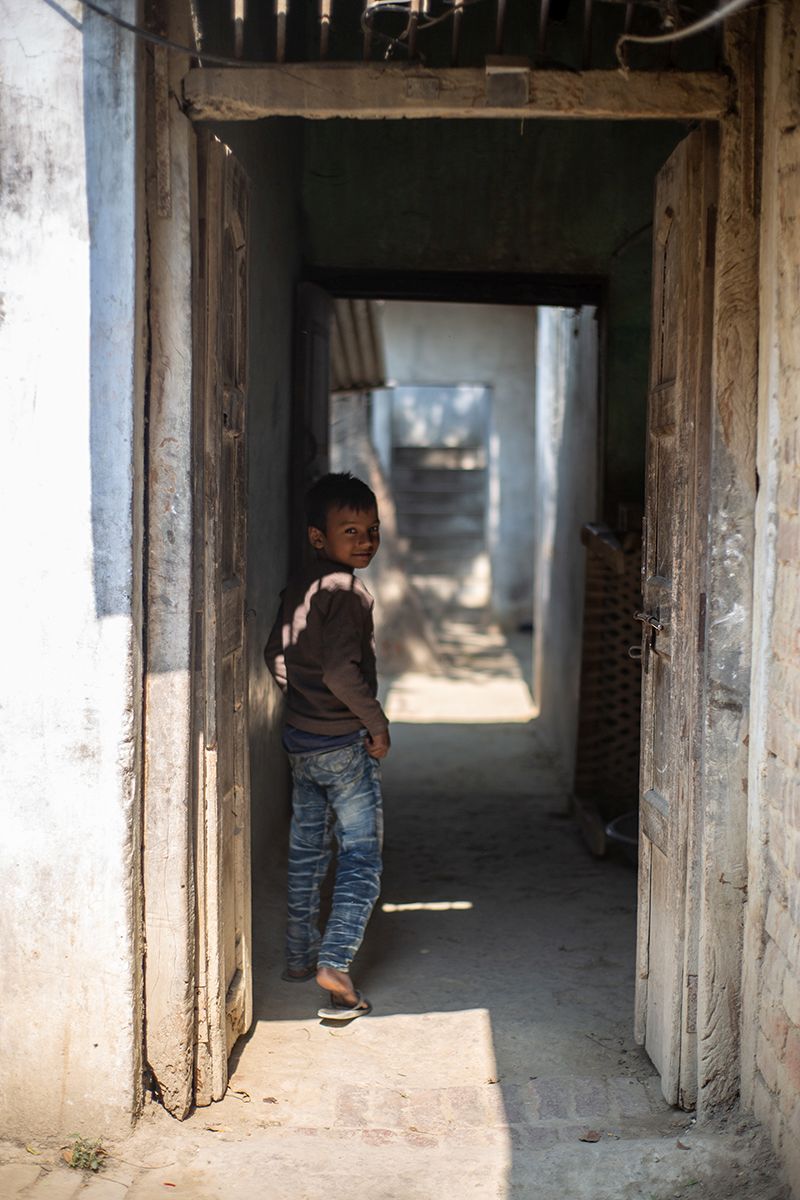 .
#fashionrevolution
***
I have been thinking if I should tell you this or not. As you know "marketing" and spreading love & joy & keeping up good vibes- thing around.. It's Fashion revolution yes we know, but do not feel like celebrating. As we work visible I decided to tell you the truth.
In India where we make most of our rugs in small villages, we have lost three skilled weaver's for covid. Situation is disastrous for their families. There are lockdowns and curfews.
We work for a limited time only, as it is also very hot, about 40 degrees in the villages now. We work on your orders, and we do have weaver's at work. Lockdowns stop the freight and all is ceased for 2 weeks every now & then. People are vaccinated, but India has such a huge population it takes for years to vaccinate all.
You need to wait for your order's arrival, as freight is stuck in Delhi, but we do appreciate your order, and work given to us in this situation very much. As we do still go strong forward. Thank You, keep well 🖤
••••••••