Natural light is something we Scandinavians do love. We want to let the light come in our homes and even more so in winter when there is so much darkness. Scandinavian winter darkness is often with six hours or less of daylight in winter. In he North, Lapland its Kaamos, all dark. But this doesn't get us down. We have come up with some decor ideas that will help get more natural light into our home. One of them is a light, natural white or pale colours. But where are the roots in Scandinavian minimalist, simple Nordic design?
One of Mum's most loved natural rugs is Koko Iäksi. Design is by Finnish Saana ja Olli. Saana ja Olli designed Koko Iäks ( lit. For the whole life) carpet for us in 2016 already. The idea was to design a carpet that would accompany it's owner in all changing situations and environments in life. Koko Iäksi rug is available in several sizes.
Aino & Einar rug is wool. Kenno rug placed under dining room table lightens the whole room.
Smooth and light since 1950's
Scandinavian design is the name of a movement characterized by simplicity, minimalisn and functionality, which emerged a the 20h century and developed in the 1950´s a the five Nordic countries Denmark, Finland, Iceland, Norway and Sweden. Between two World Wars the European designers shared a desire for modernity and innovation in design. Designs were thought through industrial technologies, keeping the mass-production cost in mind as a key to creating new things. New lines were based on the structure of the product and the natural characteristics of the material used. It was a symbiosis of creativity and industrialization. Shapes, delicacy, smooth curves, light creations.
In 1940's Danish designer Hans J. Wegner designed a natural colour multi-seat chair made of ash wood. This is also called a Chinese Bench. Picured here with Mum's Thinker rug by Giada GAnassin, Tiger wallrg by Paavo Halonen and Utopia wallrug by Saana ja Olli.
Eero Aarnio's Ball chair from 1963, from the age when plastic moulds came to fashion in production. Ball photographed with Mum's 100% organic and natural dye SOLINA wool rug knotted by hand in relief pile. Wilina is holding Mum's Bird cushion inspired by Ricardo Cavolo.
Scandinavian design is about good life
Lightness, natural simplicity, sophistication and cosyness are the key elements of the good life in Scandinavian style. But where does it appeal from? Architect and designer Alvar Aalto is one of the leading inspirational person's within Nordic simplicity. Finnish born Aalto built his reputation ( not to forget his wife Aino) in the first half of the 20th century. His streamlined furniture was designed for buildings like Paimio Sanatorium. As an architect he was a functionalist concentrating on simple forms, geometrical beautiful, yet practical buildings. Same idea turned to furniture, made of wood, natural materials, burned tile. Furniture need to be easy to clean and durable, wise to make, simple. There was also a ground breaking happening on 1951, exhibition for "Scandinavian Design for Living", following Arne Jacobsen's Egg chair launch in 1958. In London Terence Conran's first Habitat Store offered a distinctly Scandinavian focus on natural materials and simple lines.
Mum's Nimetön woolrug design by Vesa Arosuo and Alvar Aalto Tank chair, which he designed for Milan Triennale exhibition 1936. Bubbles lamp by Finnish Eero Aarnio.
Home sweet home
The home and life of the Swedish visual artist Carl Larsson (1853 - 1919) and his wife Karin have had a great influence on the perception of the core of Nordic design. Carl Larsson painted colorful aquarelles from his home and family, and he is considered above all an interpretor of family life and home. They had eight children with his artist wife. Karin, who had studied in Paris, but focused on the family with eight kids.. Carl made paintings of his family. The Larssons lived in Dalarna and renovated an old wooden house, which later became the Larsson artist home. The family was the absolute pioneer of modern, practical Home Decor. The home differed from the bourgeois bold home typical of the time, where the furniture was heavy and sturdy and the colour shades all dark. Larsson's home was bright and colorful and filled with plants and textiles on wall, floor and sofas. They customized the furniture to their own liking, mixed different styles and had a lot of modern rugs in their homes.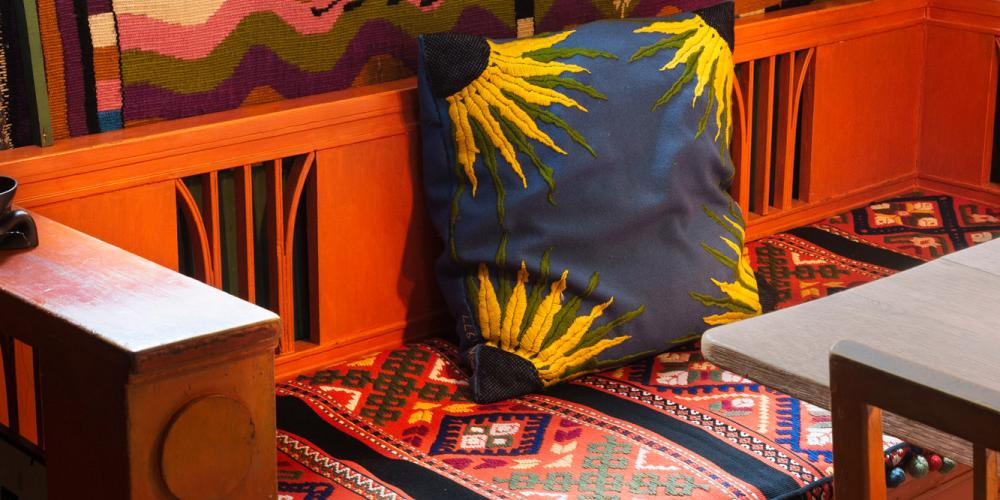 Carl and Karin Larsson were both artist. They had eight children and their home was filled with colourful textiles and clever furniture.
Nature with four seasons
We here in Scandinavian countries are used to extremes. Winter days are among Europe's shortest, summer days some of the longest, and our long winter nights continue for many months. Then, we have the sparkling snow. We have the breathtaking landscapes, with forests and lakes The feeling for nature is one of the strongest influences on many areas of Scandinavian design.

Mum's Kesanto rug is 100% natural. Phot Mirja Satomaa.
Less is more
Nordic design is visually easy on the eye. Interiors use wood in warm tones, softened with area rugs and palettes of calm, cool, muted colors. Furniture and cabinetry are crafted with eco-consciousness. Sustainable building materials last in harsh Nordic weather conditions. Nordic design thrives on the concept of "less is more." Room keeps it's function in mind.
Lightness
Natural light is a valuable commodity in Scandinavia. Interiors are kept as airy and open as possible. Walls often white or a soft pale grey. We do avoid clutter and we are actually very clever with creating stylish, clever storage systems and units, many thanks to Ikea! Stuff is kept out of sight when not in use. Somehow Scandinavians love the tranquility created by the cleaness.
We are people who love to look outwards. No heavy curtains, but sheer muslins and voiles year round instead, or just a plain view with no curtains. One thing we also love is fire, fireplaces. Fire gathers us together like our ancestors gathered around campfire. It warms and calms. For us Scandnavians happiness is appreciating simple things in life. We make this idea visible in our home.
Forest rug is flat weave relief pile rug design by Teresa Moorhouse.
Suomu mudanvihreä. Photos Mum's
Suomu woolrug is a classic light coloured rug in lovely design. Many colours. Any size. Design Susanna Vento.
Natural dye Pipana cushion design Jenni Rope. A simple natural dye Mum's woolrug under the table.
Kasvivärjätty Pipanatyyny design Jenni Rope. Lattialla kasvivärjätty simppeli villamatto.