The hand-knotted rugs, which are made by hand by weaving each knot individually in a specially designed loom are, therefore, the most expensive.
Actually, expensive area rugs come with that hefty price tag because they are works of art that you can walk on. Every hand-knotted rug tells the story of the designer, the weaver's personality, and the journey of making the rug. It is like a painting made over a long period of time with yarns of carefully chosen material, pure wool.
At Mum's we use time consuming methods that are innovative, yet traditional. Each rug is a homage to the textures of wool. Wool as a working materilal has many significant advantages as a carpet fiber.
Näkymä. Part of Typewriter collection design Tomi Leppänen. Collection available also is thick and soft luxury wool.
Our wool is farmed locally in Northern India by the artisan community we collab with. Farming also supports the community and for us locality is a value: we always use local materials because t supporst the comminuty and does not harm eh environment. Wool we use is taken to the artisan village on bicycles. This si a time consuming process, sheep sheared by hand, traditionally. But it is kind for the aminal, man and environment. Wool is natural, breathable and even fire-retardant. It repels dirt and water. It is also low in static. A natural and sustainable choice. A rug which lasts for decades.
There is "natural lanolin" in all wool carpets. This natural material plays a kind of magic role in the performance of the end product. "Lanolin" can be more accurately described as "wool grease". Up until the time the sheep are shorn, secretions from the sheep's sebaceous glands (fat glands) create "wool grease". In order to make the wool a serviceable fiber, this wool grease and other soils are first removed. This cleaning process is called "scouring". In the scouring process, the wool fibers are washed at temperatures above 60º C in order to melt the wool grease. The grease is recovered from the scouring process and is refined to produce lanolin, a very common ingredient in skin care formulations as well. Best wool has got a low grease content.
There is no timetable that can be used to predict when cleaning is necessary. Life-style, pets and location are just a few of the factors that need to be considered when deciding how often cleaning is necessary. With proper care, wool lasts for years, decades. Vacuuming and damp dusting are all tools that can effectively add life to wool carpets. Remove stains immediately. Take care of your precious warm wool rug.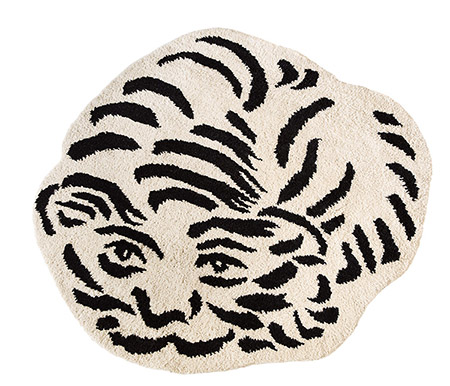 iger Of Finland design Paavo Halonen.
Savannah design Pasi Kärkkäinen-Tunkelo.
Love design Ricardo Cavolo.
Kesanto.
SEE all Mum's thick eco luxury wool rugs HERE.
Kindly as for more info at This email address is being protected from spambots. You need JavaScript enabled to view it.